Package 1
100 guests
5 Tier Fountain or cheese fondue
LED Surround
Belgian Chocolate or Nacho Cheese
Skewers
Napkins
6 different dipping items
Up to 3 hour actual hire time
Professional attendant
£320.00*
---
Package 2
150 guests
5 Tier Fountain or cheese fondue
LED Surround
Belgian Chocolate or Nacho Cheese
Skewers
Napkins
6 different dipping items
Up to 3 hour actual hire time
Professional attendant
£370.00*
---
Package 3
200 guests
5 Tier Fountain or cheese fondue
LED Surround
Belgian Chocolate or Nacho Cheese
Skewers
Napkins
8 different dipping items
Up to 3 hour actual hire time
Professional attendant
£420.00*
---
Extra travel costs may apply please ask for detail
Usual hire time is up to 11pm and you may choose any continuous minimum 3 hour hire time.
We do not usually hire past 11pm for chocolate fountains but please ask for details, we are happy to advise on the best time to operate as different events suit different times of operation.
---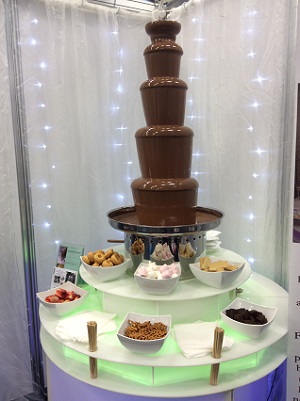 ---
Choose your Dips?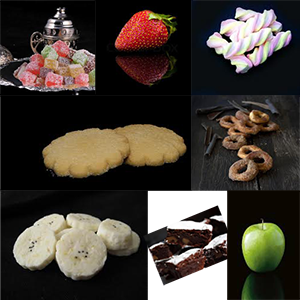 Strawberries*
Apples
Doughnuts*
Bananas
Profiteroles*
Shortbread*
Marshmallows*
Rice crispy cakes
Turkish Delight
Brownies*
Jelly babies
Other fruit
*Denotes most popular
---
All new popular Cheese Fondue
Try our popular cheese fondue with your choice of six dips - Delicious if you fancy something savoury rather than sweet
Pure Grade Belgian Chocolate Fountain
Our elegant professional Belgian Chocolate Fountain will complement any wedding or party
---
Milk, Dark, White or we can supply just about any primary colour of your choice, each 5 tier fountain is positioned on a colour changing or static light base built specially for the fountain surround.
---
Choose your Belgian chocolate colour?
The most popular colour of chocolate is Milk, Dark or White but why be the same as everyone else, match your own party colour!
We can provide most colours for just an extra £10.00 for any fountain.
* Please note: White chocolate is best for colouring as it gives the most natural look
---
Extras available to add to any package
• Why not add a second 5 Tier Fountain with a different coloured chocolate for a special price to include:-
LED Surround, 
Pure Belgian Chocolate
, Skewers, 
Napkins and 
6 different dipping items
3 hour actual hire time* Just an extra £185.00 with Package 3,  Just an extra £165.00 with Package 2, Just an extra £150.00 with Package 1
• Or add a pop corn or a candy floss machine for just an extra £100.00
---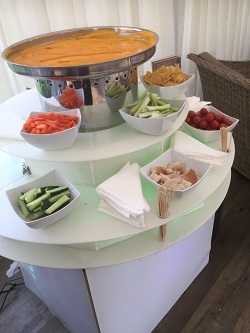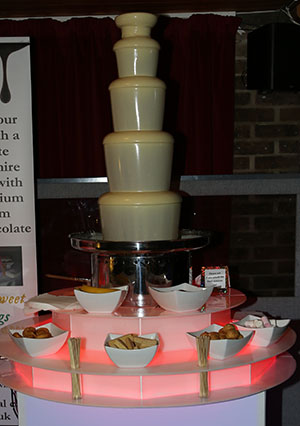 ---
Your fountain will provide a wonderful spectacle and be the centre of attention at your event, loved by everyone the warm flow of delicious chocolate will delight all your guests
---
Colour changing LED bases for all fountains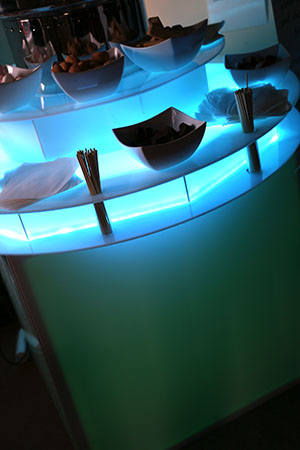 ---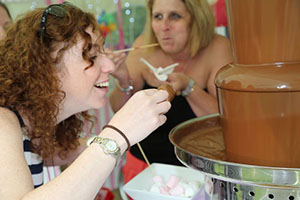 ---
Cheese Fondue
Dip Choices:
Nachos
Cherry Tomatoes
Celery
Cucumber
Carrot sticks
Bread sticks
Or just about anything you can think of - Please just ask
Contains alcohol