Choose your Photo & Video unit
A Photo and Video Booth or a Selfie Tower unit is a great way of entertaining your students at any event
They will love their instant personalised image with YOUR SCHOOL LOGO that they will get to take it away with straight away
Unlike other photo booth companies we do not charge extra for school proms or graduations - In fact - Our rates may be cheaper!
Studio quality Photo Booth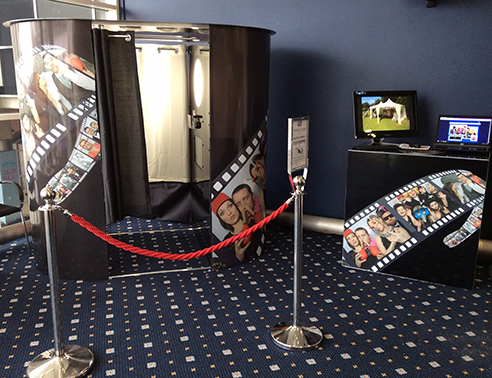 The unique sit down Photo & Video booth unit - Max 6 persons at any one time
Measuring just 2m high x 3m wide x 1.5 depth this unit will fit into most spaces, it comes completly flat packed in just 5 canvas bags delivered on site about an hour or so before your event operating time
The 'NEW' Selfie Tower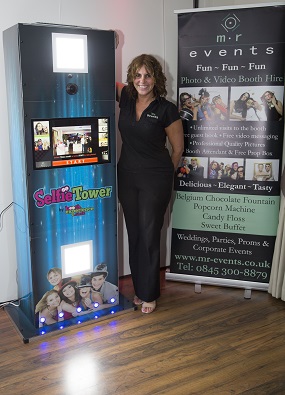 We still supply our professional booth staff and the standard service listed with great pictures, but if the unit floor plan space is limited then a Selfie Tower is a great alternative. Please note that you will need a space to the front of the unit (approx 6 feet), for your guests to stand and have their pictures taken, the image background will be the natural environment or we can supply a theam background to suit your event if booked in advance (limited choice available).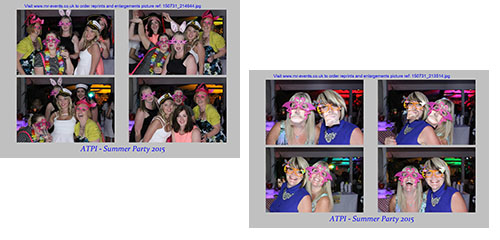 Choose your Package to include:
Unlimited visits and free 6" x 4" pint for each person who uses the unit (max 6 per group) during your hire period
Video messages left by your guests
Professional attendant to assist you and your guests
Box of 'props' for your guests to dress up if they wish
Setup and removal as arranged
Complimentary memory stick supplied with all the images and videos taken at the end of the event
Guests may order larger photos and reprints after the event via our online gallery
FREE Green-screen option - change the background image to suite your theme! Not Selfie Tower)
Professional branding of your school logo onto the prints as required
Guaranteed FUN!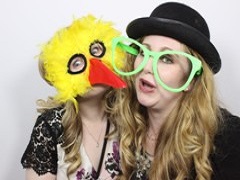 School GOLD
---
Supplied with the details above for a minimum 3 hour hire
EACH PERSON having a 6 x 4 print to a max 6 people in each group
Let everyone have a print with this Gold package
£365.00* Sun -Thu
£395.00* Fri & Sat
£ School invoicing no deposit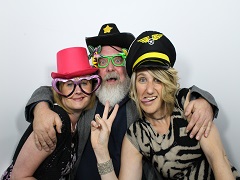 School PLATINUM
---
Supplied as per Gold
But operating for 4 Hours
£395.00* Sun -Thu
£420.00* Fri & Sat
£ School invoicing no deposit
Photo & Video Booth/Selfie with Chocolate Fountain & Dips
A great 3 hour combined event (School GOLD) with a delicious Belgium Chocolate Fountain (Fountain package 1)
£550.00* Sunday -Thursday
£600.00* Friday & Saturday
£ School invoicing no deposit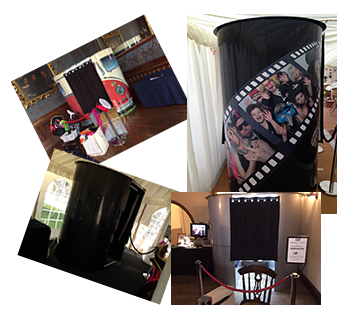 Add some extra items to your hire?
Extra hour's hire* - £40.00 p/h only if booked in advance of the event
Duplicate USB containing all images & video messages - £15.00
Guest album with a full set of pictures inside £40.00
Key ring events available please ask for details
Add a Candy Floss or a Popcorn machine to your booth hire for just an extra £100.00 each
* Travel costs may be added depending on your area please check for details.
Events in Central London (congestion charge area), will incur an automatic minimum £50 extra charge to cover expenses such as parking
Extra costs may still be applied please check with us for details.
Why not choose a picture format you like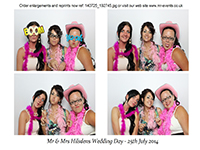 4 x Image Format
Our most popular and perfect for wedddings & parties of all types.
Your personal one line message added to the bottom of the picture.
Each image is approx 60mm x 40mm and displays really nice of the 6" x 4" print.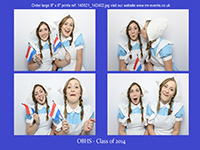 Coloured Background
The same 4 x images but with a coloured print background of your choice.
We will match your chosen colour as best as possible or provide the RGB numbers for an exact match (subject to printer limitations)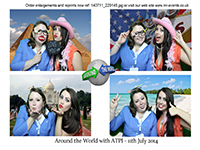 Green Screen
Unless you have a themed wedding your images are better left white behind you, but if you are having a themed party then why not have green screened backgrounds to match, we can produce backgrounds event 3D effects depending on your choice of pictures and theme. Add Las Vegas, the Taj Mahal or the Pyramids to your pictures or anything you want!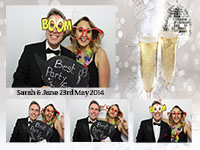 1 + 3 Image Format
Champagne glasses or any graphic you choose, suites this 1 + 3 format which is perfect for weddings or have a graphic option with a 3 print format.
The large picture is approx 83mm x 55mm and the 3 single images at the bottom are approx 44mm x 30mm with or without background image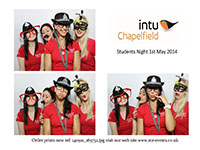 3 x Image Format
Most popular with our corporate clients this 3 large picture format as well as a graphic or larger mesaage will promote your brand, if you like it, choose this format.
3 great pictures approx 60mm x 40mm and a graphic logo to compliment your event, wedding champagne exploding or just about anything you want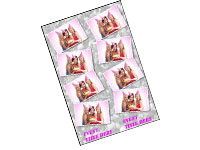 Image Strip
Great for sharing and like the traditional 'passport' pictures but size is reduced to approx 40mm x 28mm. Ideal for childrens parties or 'Retro' theme events. Choose:
Single strip of 3 or 4
Double strip of 3 or 4